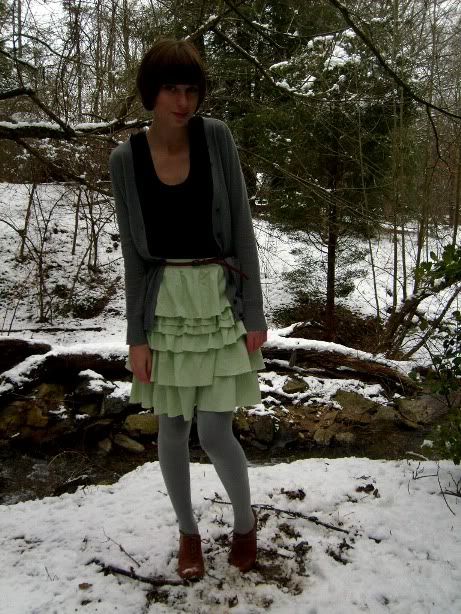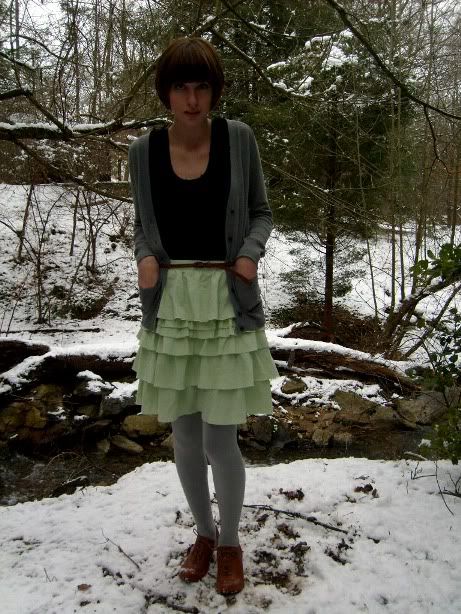 These pictures didn't out well at all, they're way too dark (except for one mystery close-up which turned out perfectly bright and visible). I guess I waited too late in the day to take them, but I had a good reason! I was awaiting the arrival of my brand new shoes! I was very indecisive about these shoes. They've been on my Forever 21 wishlist since Christmas...but I didn't get them, obviously. I kind of forgot about them for a while until recently. I saw lots of bloggers sporting adorable oxford-like heels and found myself wanting some again. I almost bought them once but convinced myself not to, telling myself I should save money. Then I had one of those getting-ready-realizations. Do you have these? You're getting dressed and as you're putting together your outfit you think to yourself "Hey, you know what would look great with this? That thing I didn't buy!" So after having that feeling a couple of times and reading
Kendi's review
of these shoes (
and seeing her looking adorable in them!
) I finally bought them. And I'm so glad I did!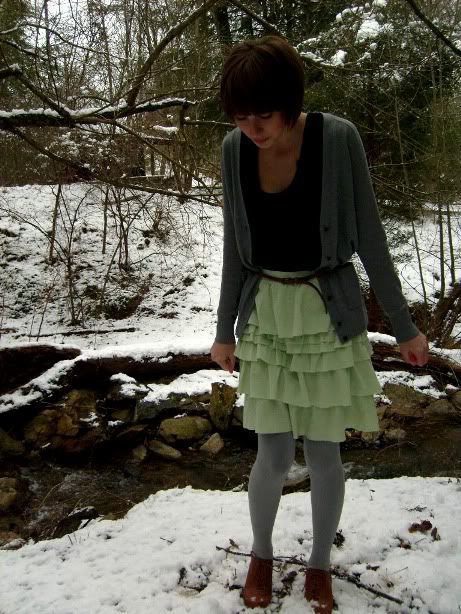 Tank, belt - Urban Outfitters; Cardigan, skirt - J. Crew; T

ights - Target; Shoes - Forever 21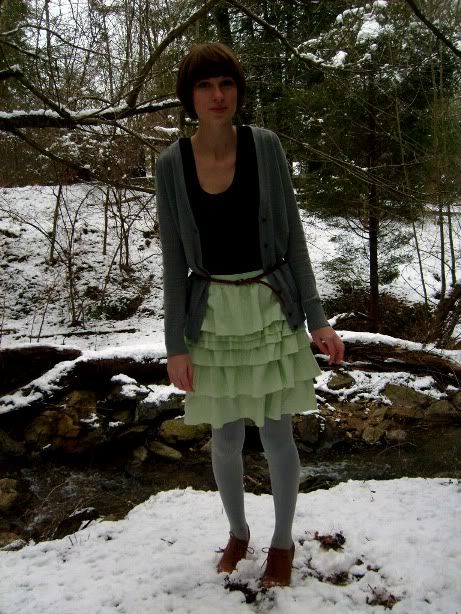 This skirt is one of those J. Crew items
I told you about
. You know, the ones I said were really only warm-weather appropriate so you'd have to wait to see them? Well, I guess I changed my mind. Sure, a mint green ruffle skirt is probably a "spring" item...but I can wear it in the snow!
Mysterious bright photo! I wish I knew more about photography so I could figure out why this happened in this photo and none of my other ones. I was trying to get a close-up so you could see the rosettes on the neckline of this tank top - hence the title of this post.
Well, I'm off to do productive things like cleaning and paper-writing and dinner-cooking. Maybe...
Or maybe I'll just waste some more time on the internet. That seems much more likely.