I love my boyfriend. I love that he is willing to take photos for me even when it is freezing out. But the photos he takes never turn out so well. Hopefully this will change when I can invest in a better camera.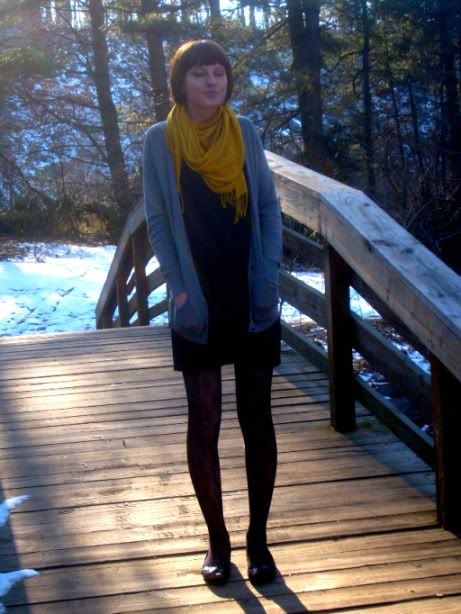 Hi, I'm Jessica and I'm capable of incredibly dorky facial expressions.

Scarf, skirt - Urban Outfitters; Tank, shoes - Old Navy
;
Cardigan - J. Crew; Tights - Rue 21
These are my new tights! You can't see them very well. Hopefully I'll get a better photo soon. I've been wanting black lace tights and these are the closest/cheapest thing I've found so far. They're from Rue 21. Are you guys familiar with that store? It kind of seems like a way cheaper version of Forever 21. I wonder if they own it? Hmmm.
Oh, I bought by blog domain today! It might take a few days before it's fully functional (according to blogger my blog is "in transition") but very soon you will all be able to find me at wardrobesandwhimsy.com! Hooray! This also means a
new e-mail address!
Don't forget to enter my
giveaway!