So much for my pretty outdoor snow shoot. It's rainy and dreary today. But I took lots of indoor photos and I'm going to post far too many of them because, well, because I feel like it.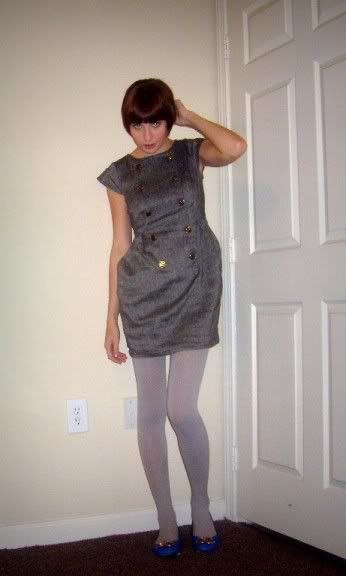 Dress - Urban Outfitters; Tights - Target; Shoes - thrifted
So, this dress is from my mini-shopping spree at Urban. I can't believe I haven't shown you guys any of the stuff I bought yet! There's more to come. "Jessica, have you spent more at Urban than you've earned working there?" you ask. Ehem, no comment. I've forbidden myself from buying anymore stuff. At least until my next paycheck. But I have my eye on
this lovely dress
and these
jeggings!
I'm the queen of impractical shoes. These shoes have absolutely no traction. I'm lucky not to slip and fall on the carpet. Yet I wore them today out in the rainy/icy/snow because I didn't like any other shoes with this outfit. (I mean, the gold on the shoes...the gold in the buttons. How could I switch shoes?!)
Also, I love my fabric steamer. I never knew I could love an appliance so much. Perhaps I will love my sewing machine more if I succeed in pillow-case making at my sewing class this evening.