I'm doing a giveaway to celebrate reaching 50 followers! This goody basket includes: 3 scarves, a lovely lace-trim cami, a little box of vintage jewelry, yummy apricot face scrub, a box of gourmet cookies, hot chocolate mix, the February issue of Teen Vogue and some Forever 21 hair accessories.
I know it's not the most exciting giveaway in the world, but I wanted to show some appreciation for those of you who follow my humble little blog here. I really love the blogging community. It's amazing to me that anyone at all would be interested in my ramblings, let alone 56 people. So, thank you all so much!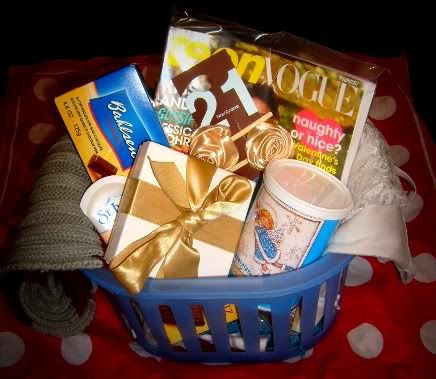 To enter: be a follower of this blog and leave a comment on this entry
. Be sure to leave some way for me to contact you if your profile doesn't link to your blog.
For an extra entry, re-post this somewhere!
Your blog, twitter, etc. and leave a comment with a link. The giveaway will close at 12 AM eastern time on Saturday the 20th.