I've been scoping out this skirt on the UO website foreeeeever. It was on my Christmas list but I didn't get it because my mom decided not to buy me any clothes this Christmas. I guess she thinks I already have enough? hmm...
Anywho, I finally got my hands on it and I like it a lot. I haven't had time to really play with the styling so I wore it with something really basic today. My first instinct was to toughen it up with darker colors because I'm not one to usually wear pinks or pastels. They are growing on me though - especially pale pinks, blues and mint greens. I wish my camera showed the color a little better, it looks almost white here. There's a much
better photo
on the UO website.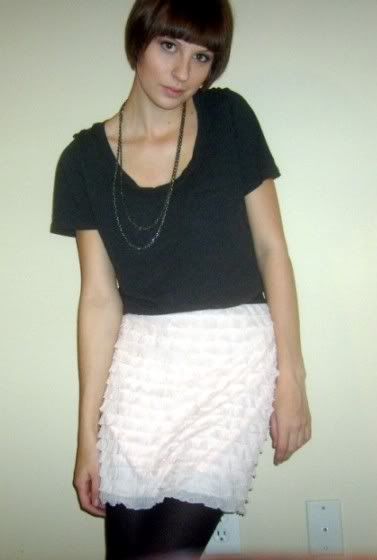 Well, that's what I wore to class anyways. Before work I decided to change my shirt and cardigan and add a scarf...
Tank - Old Navy, Scarf - Gap, Cardigan - J.Crew
Which look do you like better? I think I prefer this one.

So, I want to do some cooking this weekend I think. Do any of you have some favorite recipes to share?